Welcome to the Collectorline® PRODUCTS page
Please Click On the Product You Are Most Interested in.
Plastic Bags
Self Seal Polypropylene Comic Bags
Mylar Sleeves
Storage Boxes
Backer Boards
Plastic Divider Boards
---
Plastic Bags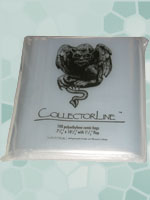 Our bags are made of 250 gauge, high clarity, low density polyethylene.
If you ever offered cheaper bags, check the quality.
Marvel/DC
Size
7 1/8″ x 10½" + 1 ½" flap
These will fit 'old' and 'new' Marvels/DCs, 1959 to date.
2000AD
Old Size
9 ¾" x 11 ½" + 1 ½" flap for #s before 520
New Size
9 ½" x 12″ + 1 ½" flap for #s 520 to date
Will fit 2000AD after about 520, with the exception being that 2000AD went through other format changes – most of which are suited to a Magazine Bag (see below)
Magazine / Starlog / UK Marvel
Size
8 ¾" x 11 ½" + 1 ½" flap
These will fit most USA magazines and graphic novels, also the more Mag-sized 2000ADs
Golden Age / Trade Paperback
Size
7 ¾" x 10 ½" + 1 ½" flap
For Golden Age/50s comics and Trade Paperbacks
TV21 / Eagle / Treasury
Size
11″ x 15″ + 1 ½" flap
These will fit TV21, treasury and Eagle sized comics
Regular Paperback
Size
5″ x 8″ + 1 ½" flap
for most paperbacks books
Manga
Size
6″ x 8″ + 1 ½" flap
for many Manga comics, & thicker Paperbacks
T-Shirt Bags
Size
12″ x 15″ no flap
Comic and Magazine Box Bags
Size
36″ x 27″ approx
Clear bags for use at point of sale, enabling you to encourage box sales in bad
weather.
---
Self-Seal Polypropylene Comic Bags
Size
182 mm x 270 mm with x 40mm flap: 200 gauge.
Polypropylene bags have a "crisp" quality and excellent optical clarity which
make them perfect for presentation and display. The self-seal lip has a peel-off
covering strip enabling speedy bagging of new comics for the racks.
Since Polypropylene bags have a tendency to "tack" together when stored in close
contact over a long period, our Polyethylene bags are for general storage.
---
Mylar Sleeves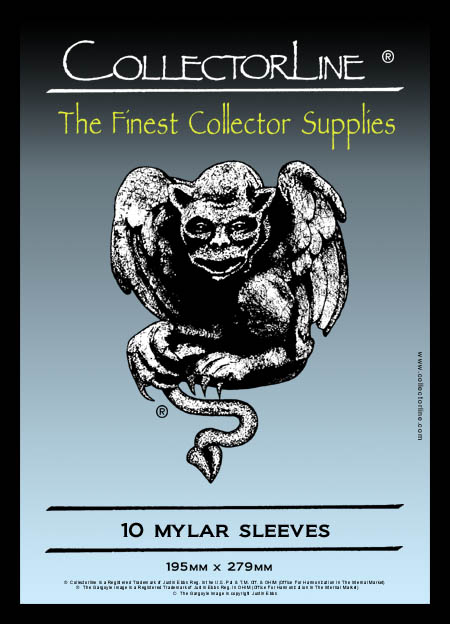 Size
195 x 275mm, 75 microns thick.
Mylar D
is a chemically inert material, recommended by specialists world-wide for
Museum Quality Archival Storage. The US Library of Congress and the University
of Utrecht both use it. Since comics themselves exude acids that lead to
their eventual degeneration, Just Comics Collectorline® Mylar sleeves*
are open ended, to allow aeration.
The "rainbow" effect sometimes seen on the surface is caused by light
diffraction which occurs when two microscopically smooth surfaces rest
closely together. Any reference to Mylar is to Mylar type D.
Mylar is a trademark of Dupont Co.
Collectorline® Mylar sleeves are welded on three sides, and open along one short side.
---
Storage Boxes
Our Collectorline® boxes have been made to exacting standards for three-decades, and have become the industry standard.
We regularly buy collections safely stored in Collectorline® boxes for decades. Collectorline® Boxes should not to be confused with cheap immitations!
Used throughout Europe, they are preferred for their quality features:
high gauge double walled construction
double layer bottom & secure carrying handles for weight support
overall structural integrity, which makes them stackable & ensures long life
White finish with lids
Standard Comics Boxes
Capacity: approx. 220 comics with backers, 250 without backers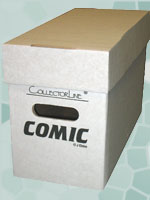 Long Comic Boxes
Capacity: approx. 350 comics with backers, 400 without backers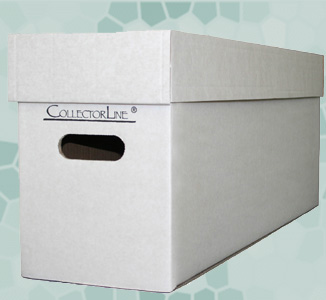 Magazine Boxes
Capacity: approx. 220 2000AD comics with backers, 250 without backers
Approx. 100 / 120 Magazines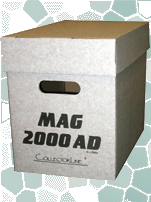 ---
Backer Boards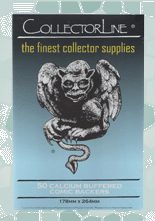 VARIOUS SIZES TO FIT
"ALL" COMICS
…For Example…
Calcium Buffered Backer Boards
Comic Sized
Size: 178 x 264 mm
Magazine Sized
Size: 219 x 283 mm
Non -Buffered Backer Boards
Comic Sized
Size: 178 x 264 mm
Magazine Sized
Size: 219 x 283 mm
---
Plastic Divider Boards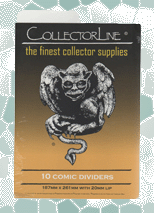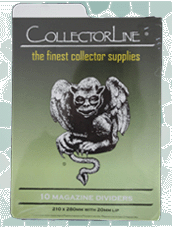 These boards are 1 mm thick, made of superior white opaque plastic.
We believe that these, in common with other Just Comics products, are the best available for the price. If you are offered cheaper, check the thickness and quality.
Ideal for shop and back-up stock separation and far more durable than cardboard dividers, they are a just for customer browsing or continual stock access (eg: mail order).
Comic Dividers
187 x 262mm with 20mm lip
and rounded edges.
Magazine Dividers
210 x 280mm with 20mm lip
and rounded edges.
---
If you have any questions concerning TRADE enquires after viewing this page
Please feel free to: